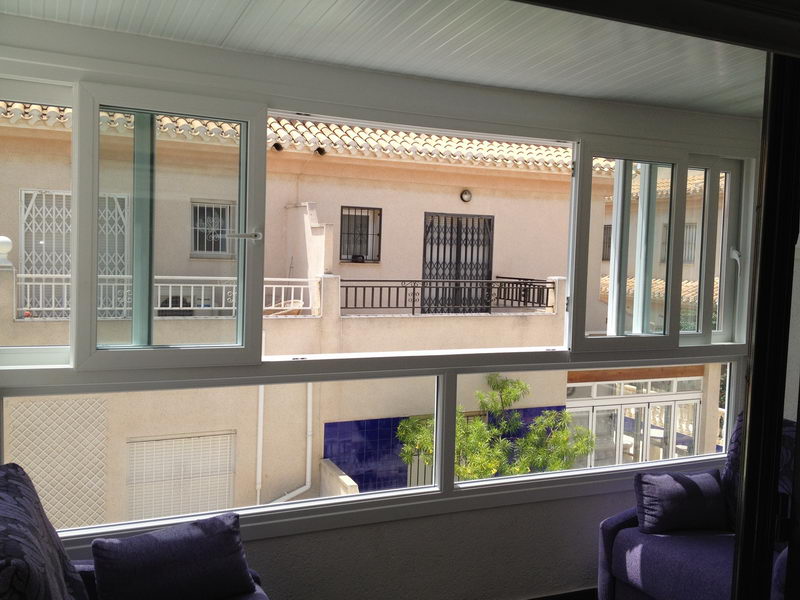 This choice of window is popular here in Spain and across Europe. Our sliding windows are ideal for Balcony and terrace infill's, they are also ideal for window openings when you don't have sufficient space for a tilt and turn window to open, providing extra ventilation or even a fire escape (depending on grills).
With our DECEUNINCK TECNOCOR 2 track system we can manufacture windows with either 2 sections or 4 sections, this allows up to half of the window to be open at any one time
We also have available our DECEUNINCK TECNORCOR 3 track system, this allows us to make wide opening windows with either 3 or 6 section. When using the 3 track system the opening space can be opened up to two thirds on both 3 and 6 section, this allows a large opening area to allow maximum air flow
If you turn your handle 45 deg the window will then slide, you can regulate the window by ether allowing a small area for ventilation, or sliding the sash fully open.
Our high security sliding windows are very secure we use the WINKHAUS DUO PORT S all the locking points are concealed inside the section of the sash and lock inside the striker, All our window come as standard with a key locking handle.
Like all our windows our, Sliding window range are also very efficient.